Sugar Skull Yo Self at La Palmera Mall (Upper Level near Claire's)
Date: Saturday, October 29 • 11 a.m. to 7 p.m.
Questions?: Email Us
Available Designs
6 Inspired y Sugary Designs are available.
Make an appoitnment below to cut the line
All design colors and symbols can be altered. Add Glitter & Jewels for + $5-$10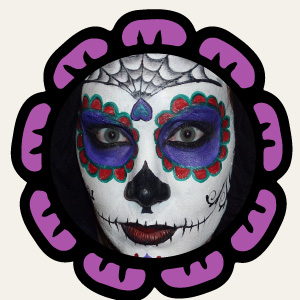 Black Widow ~ Full Face
Spiderwebs and black magic. Colors can vary.
Starting at $25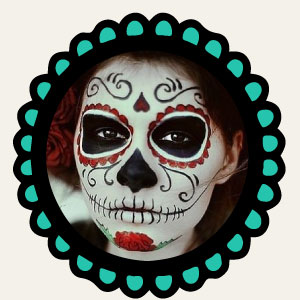 Amor ~ Full Face
Florals, hearts and flourishes. Pop color can vary.
Starting at $20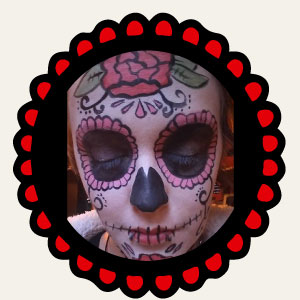 Rosa Vida ~ Full Face
Roses adorn the forehead. Colors can vary.
Starting at $25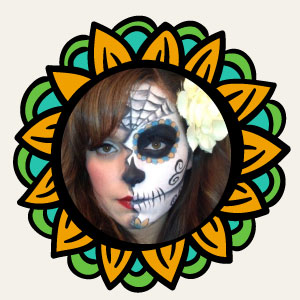 Torn ~ Half Face
Vertical half face with webs, hearts, or florals.
Starting at $15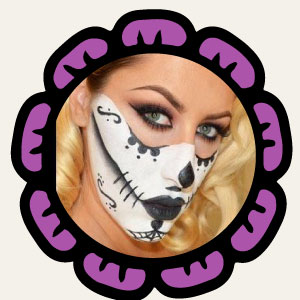 Dama Oscura ~ Half Face
Horizontal half face adorned with webs and accents. Colors can vary.
Starting at $10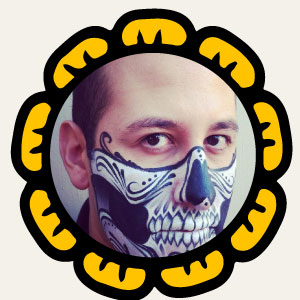 Hombre Oscuro ~ Half Face
Horizontal half face adorned with webs and accents.
Starting at $10
Are you ready to Vivas Los Muertos?
Request a face painting appointment to Sugar Skull Yo Self NOW!
Appointment
MEXcellent Decals // Prints // Tees // FOR SALE
Bring your dinero for Loco-Creative Original Art & Dia de los Muertos Goods
Check back after Oct. 5. Muy mas work to come!

See YoSelf Sugar Skulled After the Event at #tamuccdesign
RAISING DINERO. Doing it for the niños.
Who We Are
The Dia De Los Muertos Pop-Up Shop is a crazy-fun and loco-exciting event by The Graphic Design Majors at Texas A&M-Corpus Christi. At TAMU-CC, we want to better our students, our program, our community and our city through impactful and inspirational design. Check out our website for degree information, student work and mas.
---
Where the Dinero Goes
With an emphasis on student development outside of the classroom, the TAMU-CC Graphic Design faculty aspires to send our students to national design conferences so they can learn from industry leaders, be motivated by renowned speakers and to be jealous of incredible, moving works. These conferences can be life-changing but they are never cheap. We work together to raise funds that offset or eliminate registration and travel costs, giving as many students as possible an opportunity to experience the power of great design beyond campus. 100% of all dinero raised goes to student development.
---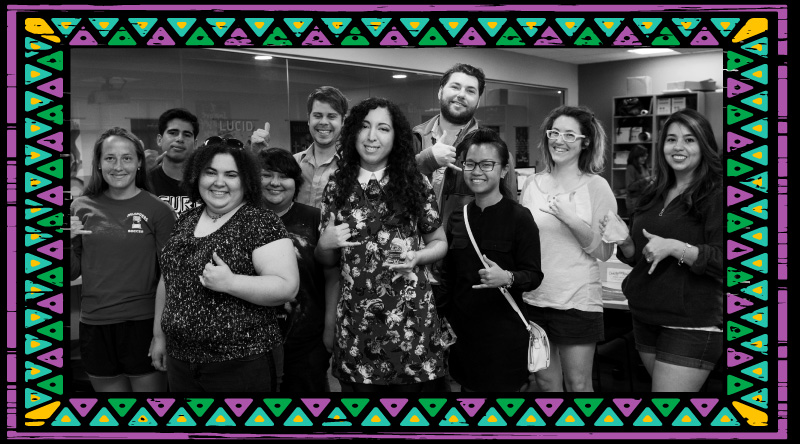 My Dia de los Muertos was muy lamo, then I went to La Palmera and bought a few original art prints and a window decal for my Prius. Suddenly my Dia was muy fun-o.

I couldn't face going to Dia de los Muertos festival downtown without my face painted. What would the others say about my plain and lame look? I went to the Sugar Yo Self face painting pop-up and they hooked me up. Mouths dropped as I walked through the festival, my face painted and lookin' all festive.